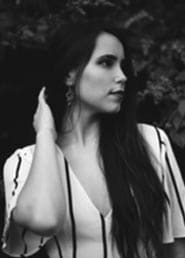 Carleigh Reese (Limited Availability)
B.M. Jazz Studies, Vocal Performance U.N.T.
Carleigh grew up singing classically in high school, performing with the TMEA All-State Choir, as well as, the ACDA National Honors Choir. Along the way she distinctly remembers inspiration that came from listening to the acclaimed University of North Texas Jazz Singers. It was no surprise that she became a member of the group when she accepted the chance to study at UNT in Vocal Jazz Performance.
Since graduating in May of 2017, Carleigh has had her own arrangement performed by one of the premier vocal jazz ensembles, and has performed on stage with the living legend, Bobby McFerrin.
Currently, Carleigh has become an active vocalist around the DFW area, playing at venues such as Klyde Warren Park and The House of Blues. With a mastery of many genres under her belt, she is able to hone in on these different sounds, producing an eclectic timbre of her own.
Carleigh's voice carries a depth of emotions. With the ability to sing forward and free, or with a quiet intensity, she captures the attention ofany audience. She is able to perform a wide range of genres that includes a repertoire of Billie Holiday, Amy Winehouse, and Stevie Wonder. As a songwriter, Pop and Neo-soul grooves are the foundation for her intricate harmonies and subtle, yet meaningful lyrics.
Carleigh believes that any student can achieve success if they are given the tools to practice efficiently outside of lessons. With years of teaching experience, she is able to cater to the needs of different students and help them flourish in the way that they learn best.