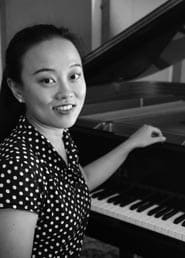 Ce Sun (Accepting Students)
D.M.A. (candidate) University of North Texas, Piano Performance
M.M. Piano Performance and Chamber Music, Magna Cum Laude, University of Michigan
B.M. Piano Performance, Central Conservatory of Music, Beijing, China
Native of China, Ce Sun (Sunny) started her musical journey at age 3 on keyboard and soon switched to the piano at age 5. She studied under a Ukrainian professor, Galyna Popova, who helped her win national competitions while she was in high school in Guangzhou. She received her Bachelor of Music Degree in Piano Performance from Central Conservatory in Beijing where she collaborated with many international musicians helping them with their recitals and competitions. While in China, she won numerous competitions including 1st place in the Camerata Concerto Competition (2014) and 3rd place in the National Youth Piano Competition (professional category of Pearl River Kayserburg). She also gave a concert in the Forbidden City Hall in Beijing, China for the Liszt 200th Anniversary Concert.e arts program.
To continue with her musical studies, she came to the US to attend the University of Michigan where she double majored in Piano Performance and Chamber Music. While there, she won the concerto competition and, as a result, performed Prokofiev's 3rd Piano Concerto with the University of Michigan Philharmonic Orchestra. She graduated Magna Cum Laude.
Currently, she's pursuing her doctoral degree under a Van Cliburne International Competition Winner, Vladmir Viardo, at the University of North Texas; her related field is piano pedagogy.
Ms. Sun has great passion to pass along her deepest love of music and she loves to share the joy that music brings in her life. She knows that a successful pedagogue is not only good at performance, but also knows how to share and discuss musical thoughts with their students. It is her goal to communicate the beauty of the special language of classical music. During her teaching, she uses direct and indirect methods, which helps the students to think creatively for themselves instead of merely following the teacher's instruction.
She has taught piano and music theory in I Music School in Beijing, China and Ivy Education Center in Plano, Texas and is very excited to join the Lone Star Music Academy team. She looks forward to meeting new students through LSMA.