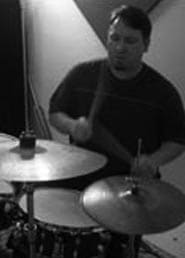 Dennis Durick (Accepting Students)
B.M. Drumset/Jazz Studies, U.N.T.
Dennis is from the Washington D.C. area, and started playing the drums at the age of seven. A relentless passion for music eventually brought him to UNT for music study. Upon graduating with a BM in Jazz Studies, Dennis recorded an album with David Liebman and toured with Heads Up.
During and after this period Dennis played and wrote for the Fusion band Friends of Fish (later to be named Popular Science). Then went on to record and tour with Joe McBride for the next several years. Upon meeting bassist Lyles West, Dennis found a new partner that produced several bands to follow: Quartet Out, Lyles West Quartet, Jason Bucklin trio and his own band Brouhaha. They also played and recorded together in the unique gypsy jazz group Café Noir. Dennis can also be heard on records from Quartet Out, Flipside, Dave Zoller, Tony Hakim, Pete Brewer, Pete Gallio, John Adams, Kellye Gray, The Champion Sisters, and the eclectic Uruguayan/Brazilian fusion band Circo.
He continues to work in the area with many of the aforementioned people as well as Jimi Tunnell (of Steps Ahead, Zawinul Syndicate), Wayne Delano, Drew Phelps, Bill Lohr, and the instrumental rock band, Shibboleth, as well as performing and writing for the jazz trio Flipside.