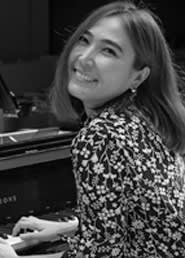 Dr. Altynay Karsakpayeva (Accepting Students)
D.M.A. University of North Texas
M.M. Southern Illinois University
B.M. Southern Illinois University
B.M. Paris Conservatory
Dr. Altynay Karsakpayeva is a very accomplished pianist and an instructor. Her family moved quite a lot since her childhood which enabled her to receive education from world renowned music schools and to give concerts all over the world.
She started her formal pianistic training at the Almaty Kazakh State Musical School for Talented Children, named after A. Zhubanov.- Kazakhstan (1998-1999).
In 2006, she began attending the Academic Musical College, part of the Moscow State Conservatory, majoring in piano, with a higher-level degree in secondary education.
In 2009, she moved to Paris and entered the Regional de Boulogne-Billancourt Conservatory. While in France, she premiered works by one of her professors, Naji Hakim, in the Great Hall of the Paris Conservatory.
While studying in Kazakhstan, Russia and France, she became a winner of various international competitions, Sofia, Bulgaria (third prize, 2004); Almaty, Kazakhstan (second prize, 2006; third prize, 2007); Paris, France (first prize, 2008); and Moscow, Russia (second prize, 2009).
She has performed in such world-famous halls as the Great, Small, Rachmaninov halls of the Moscow State Conservatory, and also performed concerts with the State Symphony Orchestra of Kazakhstan and repeatedly gave solo concerts in France.
During her studies in Moscow, she played live in the Golden Ring of Russia and North Caucasus. She took masterclasses with such eminent pianists as Dorensky, Lugansky, Gornostaeva, Glavatskih, Voskresensky, Claire Desert, and V. Gonostayeva.
Dr. Altynay enjoys performing Concerto No.3 by Rachmaninoff. She also enjoys playing chamber music, including trios by Beethoven, Shostakovich, Mahler, Rachmaninoff, Babadzhanyan and Mozart.
She recently received her DMA at UNT under the tutelage of a Grammy nominated pianist, Joseph Banowetz. She worked as a teaching fellow while there. Also, she has had extensive teaching experience, teaching both young and adult students.
Dr. Altynay is very excited to meet the Lone Star students and to help them further in their musical development.