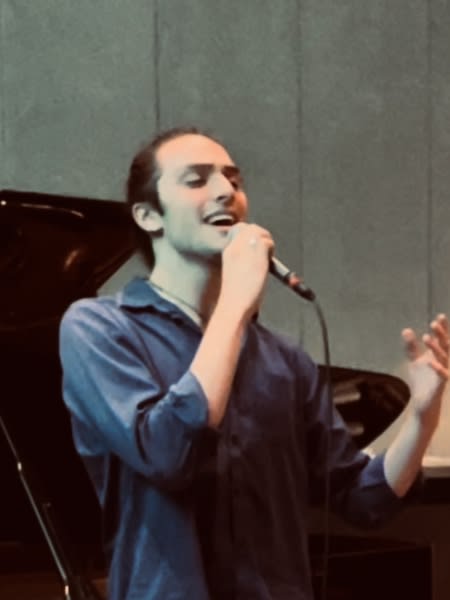 Jasper Fearon (Accepting Students)
B. M. Jazz Studies, UNT (May 2024)
Jasper is a vocalist, songwriter, multi-instrumentalist, and arranger in the DFW area. He has classical training as well as extensive performance experience in pop, rock, musical theater, choral, and jazz.
He grew up in Upstate New York where he spent his time performing whenever he could. Starting at age 8, he was the lead vocalist in a rock band where he began playing bass, guitar, ukulele, and piano. He would continue to perform with his band throughout middle and high school, playing many festivals and charity events. In addition to his band, Jasper sang in several choirs and even had the honor of being selected to sing in the 'American Choral Directors Association Eastern Choir' in 2020. Additionally, Jasper has spent extensive time participating in musical theater, performing in shows such as Rent, Joseph and the Amazing Technicolor Dreamcoat, Hairspray, and many more.
Jasper left New York to pursue vocal Jazz at the renowned University of North Texas where he studies voice with Rosana Eckert. At UNT he has had the privilege of performing and recording with the award winning UNT Jazz Singers, under the direction of Jennifer Barnes. Also, Jasper has performed in big bands with guest artists including Kurt Elling and Sinne Eeg. Jasper's love of playing many instruments has led him to continue to pursue studying guitar and piano while majoring in music at UNT.
When it comes to teaching his students, Jasper believes that music should, above all else, be fun and engaging. He endeavors to guide his students as they build an awareness of their instrument by teaching them healthy technique, general musicianship, and storytelling. Through teaching these skills, Jasper hopes to help his students build confidence and comfortability on and off the stage. Jasper is so excited to join the LSMA team and looks forward to meeting new students to guide them musically.